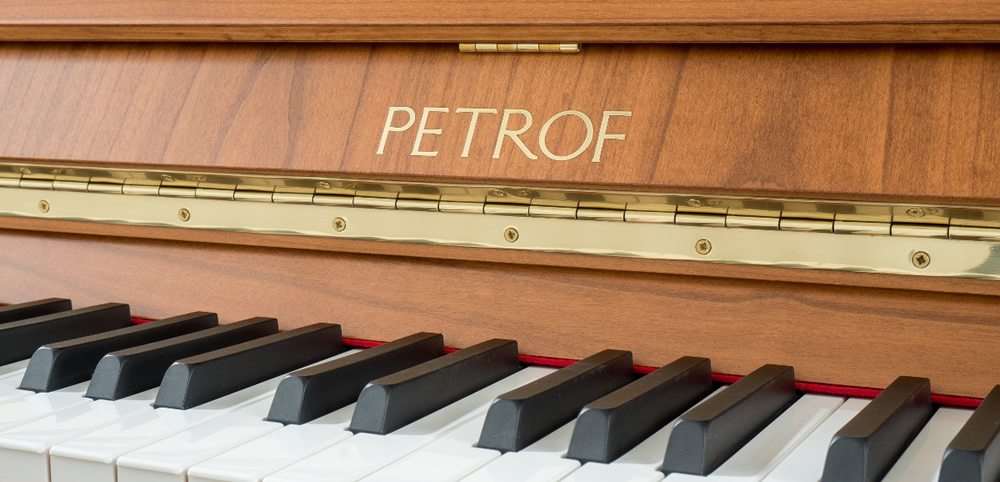 WITH A LOVE OF MUSIC AND CRAFT
For more than 154 years
---
PETROF is currently the largest producer of acoustic grand and upright pianos in Europe. It is distributed to over 65 countries worldwide. When Antonín Petrof built his first piano, over 630,000 instruments have been produced since Petrof began in 1864. Our pianos are loved by musicians and teachers for their gentle, rounded and romantic tone. The representatives - the fifth generation of the Petrof Family proudly continue in their honourable trade and family tradition.
We believe in the skill, strength and sensibility of our craftsmen's hands
80% of the production process lies in the hands of our skilled piano makers, who have many decades of experienced craftsmanship.
REFERENCES
---
"It was an experience to play on a Petrof instrument, whose sound and action let the player produce the slightest nuance of tone he may desire."
- CZECH PIANIST RUDOLF FIRKUŠNÝ ON PETROF INSTRUMENTS
Rudolf Firkušný
---
"When I first stumbled upon my upright Petrof, two things immediately stood out to me. The amazing depth of the bass notes which are almost always attributed to the best of grand pianos, as well as the beautiful, rich, romantic tone it exhibited."
- THE ARMENIAN PIANIST ARA ABOUT THE PETROF UPRIGHT PIANO
Ara, 2017
---
"I am writing to say that is a pleasure to have the Petrof 210 grand piano and the 135 upright here at the Royal Academy of Music.Petrof pianos have a fine quality of touch and tone that they maintain, despite the rigirs of intensive use they receive here at the Royal Academy of Music.I don't hesitate to speak highly of these pianos and would recommend them to anyone who is looking for high quality instrument."
- CLIVE ACKROYD ABOUT THE P 210 PASAT GRAND PIANO AND THE P 135 UPRIGHT PIANO, ROYAL ACADEMY OF MUSIC
Clive Ackroyd, 2007
---
CERTIFICATES
CERTIFIKACE EUROPEAN EXCELLENCE
The best quality materials are a crucial part of our construction process. In 2007, PETROF was granted the EEX certificate which has been a part of all our instruments in form of a seal since then. It guarantees the European origin and premium quality of all our materials.

www.european-excellence.com

PhDr. Yvonna Ronzová
Administrator

European-Excellence-Certificate (JPEG)