Vancouver Chopin Society Concert
Tom Lee Music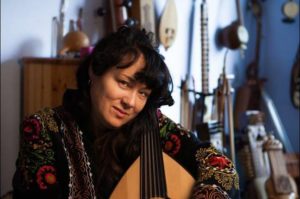 Special Event – Maria Pomianowska and her folk band
A Journey into Chopin's Music Inspiration
Maria Pomianowska
Saturday, October 14, 2017 at 3:00 PM
Saturday, October 14, 2017 at 7:30 PM
Vancouver Playhouse
Buy tickets (3:00 PM)
Buy tickets (7:30 PM)
Polish folk music is what captivated the imagination of the young Chopin and fired his creativity. Maria Pomianowska, along with her folk band, will recreate the music of the Polish countryside, playing on replicas of instruments from the Chopin era.
We hope to help music lovers, students, teachers and other performers obtain a unique interpretation of Chopin's music by demonstrating specific features and characteristics of music from the Polish countryside; music whose essence was absorbed by Chopin and integrated into his own compositions.
The concert will also feature Vancouver's Polonez Dance Group, performing some of the unique Polish dances that inspired the composer in many his works.
In the second half of this concert, the audience will be invited to embark on an imaginative musical journey. Maria Pomianowska and her folk band will be joined by a string orchestra and an array of world instrumentalists to explore the idea of how Chopin's music would influence musicians if he were living in present-day Paris. What types of music might he be listening to and what musical styles would have inspired his creativity? What kinds of instruments would capture his attention? Paris today is a place where cultures of the world meet and mingle, where one can encounter the music of Persia, India, Africa, Japan, China, South America and many others. This part of the performance will be a journey in space and time involving musicians and instruments from five continents.
Canada has always been a country of immigrants, a place that celebrates the diverse origins and cultures of all our citizens. Join us as The Vancouver Chopin Society celebrates the 150th anniversary of Canada.
If you don't like Classical music or Chopin in particular, this could just be the concert that changes your mind.
Programme
| | |
| --- | --- |
| | A Journey into Chopin's Music Inspiration (read programme notes) |
| Traditional Polish | Chorea Polonica with piano |
| Traditional Polish | Polka |
| F. Chopin | Arrangement for piano and folk instruments |
| | Mazurka Op 68, No. 3 with piano |
| | Mazurka Op 68, No. 2 |
| | Mazurka Op 56, No. 2 |
| Traditional Polish | From The Other Side Of The Lake |
| Traditional Polish | Pine |
| F. Chopin | Arrangement for piano and folk instruments |
| | Mazurka Op 33, No. 2 |
| | Mazurka Op 67, No. 3 with piano |
| | Mazurka Op 67, No. 1 with piano |
| Traditional Polish | Oberka and Polka |
Intermission
| | |
| --- | --- |
| | A musical journey of the imagination (read programme notes) |
| | Chopin in Arabia (Song "Faded and Vanished" Op. 74, No. 13) |
| | Chopin in Bulgaria (Mazurka Op. 33, No. 2) |
| | Chopin in Andalusia (Waltz Op.64, No. 2) |
| | Chopin in China (Etude "Chanson de L'Adieu" Op.10, No 3) |
| | Chopin in Persia (Prelude Op.28, No 4) |
| | Chopin in Siberia (Rondo a la Krakowiak Op. 14) |
| | Chopin in Armenia ("Spring Song" Op. 74, No. 2) |
| | Chopin in Balkans ("Spring Song" Op. 74, No. 2) |
| | Chopin in Africa (Prelude "Raindrop" Op.28, No. 15) |
| Grande Finale | Chopin in Poland (Song "A Young Girl's Wish" Op. 74, No.1) |
A reception for all will follow the concert
Artist Biographies
Maria Pomianowska is a professor at the Academy of Music in Cracow and artistic director of the Cross-Culture Warsaw Festival. She is an instrumentalist proficient on multiple instruments, vocalist, composer, as well as teacher. She has studied the unique techniques of playing Asian instruments, and has traveled to India, China, Korea, Mongolia, Japan and the Middle East.
Between years 1993-96 she conducted the Non-European Music Section at Chopin Academy of Music, along with giving courses at the Musicology Institute of Warsaw University. Her research work investigated the connections and differences between various musical systems. Comparative studies and multicultural experiences allowed her to undertake the highly difficult task of reconstructing and taking into consideration artistic as well as scientific values of two traditional Polish instruments that has been lost over time. She reconstructed these two forgotten instruments: the suka from Bilgoraj and a fiddle from Plock. In 1995 she established Zespol Polski and visited and performed in Japan, Taiwan, Czech Republic, Slovakia, Austria, Bulgaria, Germany, France, Spain, Siberia, Israel , UK, Africa.
In the years 1997-2002 she lived in Japan where she continued her musical career. In 2000, drawing from her rich Asian experiences and inspiration, she composed pieces commissioned by the celebrated cellist Yo-Yo Ma. She performed with Ma as well with other world-famous artists such as Boris Grebenshchikov, Gil Goldstein, Gonzalo Rubelcaba, Ian Gilan, Stanislaw Soyka and others. She has released over 20 albums, many of which have received international awards.