Making of "Elton John - The Million Dollar Piano"
3/18/2014 4:23 PM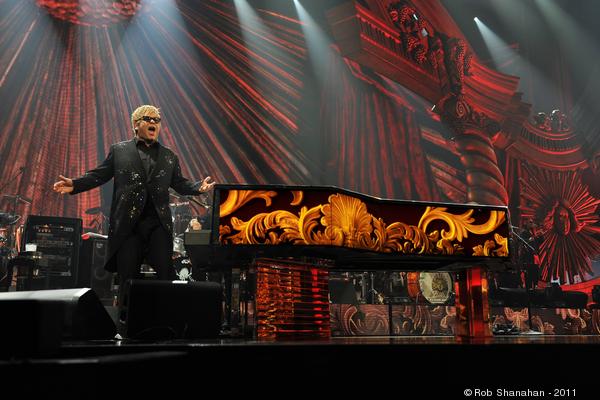 Elton John's Las Vegas revue "Million Dollar Piano" is heading to big screens across the globe this week, and a local company is at the center of it.
Chris Gero, founder of Franklin-based Yamaha Entertainment Group, directed and produced the two-hour movie, which will open in 40 countries on March 18. The movie is the culmination of more than four years of work by Yamaha Entertainment Group, which helped create the state-of-the-art million-dollar piano that John plays.
"We were filming everything, from early meetings with Elton to the very first show," said Gero. "Because it was so special and a one-off, we wanted to make sure we captured the uniqueness of this."
The company originally set out to film a documentary about the making of the actual piano, a Yamaha that features more than 68 LED screens that display images to complement each song. The piano weighs in at nearly 3,200 pounds, and yes, it cost a million dollars to make. Only two are in existence – the one on stage at Caesar's palace and its back-up.
"[Elton's team] loved what they saw, and said, 'While you are there, why don't you just film everything?' " Gero said. "We were then charged with filming the actual two-hour, live concert."
"Elton John: Million Dollar Piano" will be shown on nearly 1,300 screens in 40 countries on March 18 and March 26, including about 700 theaters across the U.S. Audiences can expect to see renditions of hits like "Rocket Man," "Tiny Dancer," "Saturday Night's Alright for Fighting," "I'm Still Standing," "Goodbye Yellow Brick Road," "Crocodile Rock" and "Your Song."
The hardest part of making the movie, Gero said, was editing down 30 hours of concert footage into two hours. In addition, Yamaha Entertainment Group produced two documentaries on the making of the piano, a 20-minute version that was released last fall through a Best Buy exclusive, and an hour-long version that is being shopped around now to networks.
"This is a global theatrical release debut – this doesn't happen in Franklin very often," said Gero. "For the most part it was invented right here … It changes the perception quite a bit. It's something for our community to be very proud of."
So what's it like working with Elton John?
"With an artist like Elton you kind of have to arrive with your act together," said Gero, who has experience producing live shows but not movies. "As a director, especially making a film of a live event with an artist like Elton, you're kind of a participant. I wanted it to translate … just how epic and grand it was."
And how does the piano fit in to that?
"We wanted it to be very much a part of telling the story," said Gero. "We wanted the piano to have its own personality."
When John's Las Vegas show wraps at Caesar's Palace, the tentative plan is to auction off one of the pianos for Elton John's AIDS Foundation and to donate the other to The Smithsonian.
By E.J. Boyer courtesy of Nashville Business Journal
//***** add a line break ?>
Share with:
Twitter.com
Facebook
Weibo
Reddit.com